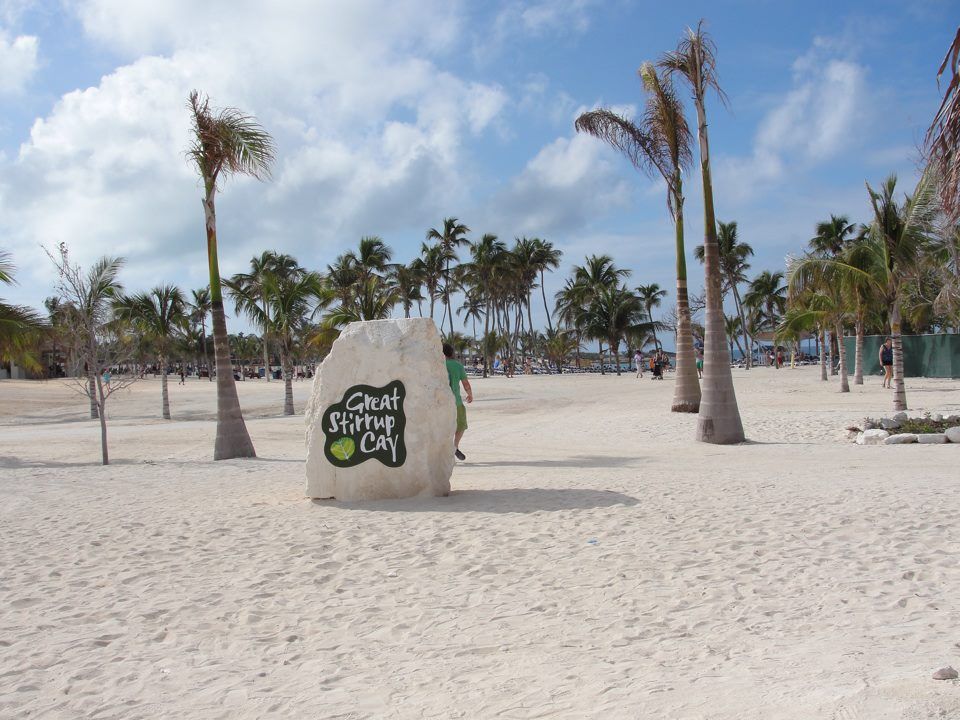 When buying a cruise package, you don't get to mix and match the itinerary. You may like some of the destinations, but not others. I confess that I wasn't excited about this island before the trip. Specially, because we would stop by it twice during the 14 day cruise trip. When I "googled" the destination, I learned that it is the Norwegian Cruise Line private island in the Bahamas. Other cruise lines also have their own private island in the Bahamas, such as Disney and Carnival which are worth a visit. Knowing that made me feel more comfortable with the idea since there would be no major crowds on the island. Besides, one of the greatest things about traveling is the surprises you get along the way.
I have to say that this island was a big surprise to us. The water was beautiful, the view was great, and we were one of the first passengers to arrive on the island by a smaller boat than the Norwegian Sun. We spent about 3 hours here, which was about enough, and we only left because we wanted to eat and it was about to rain on us. We overheard there would be a barbecue for the passengers, but the BBQ turned out to be grilled hotdogs. Well, we passed it. There was a water slide, and some other water sports for the bigger kids too. Overall, this was a day to take it easy and enjoy the beach.
Ao comprar um pacote de cruzeiro, não podemos mudar em nada o itinerário. Você pode até gostar de alguns dos destinos, mas outros nem tanto. Confesso que eu estava desanimada para visitar esta ilha antes da viagem. Especialmente, pque nunca ouvi falar dela e iríamos passar por ela duas vezes durante a viagem de cruzeiro de 14 dias. Quando eu pesquisei o destino, eu li que a ilha Great Stirrup Cay nas Bahamas pertence ao grupo Norwegian Cruise Line. Outras linhas de cruzeiro tb teem ilhas nas Bahamas, como a Disney e Carnival que valem a pena visitar. Sabendo disso, as visitas a essa ilha me pareceram mais agradáveis pois sabia que não haveria grandes multidões na ilha como foi o caso das ilhas Virgens. Além disso, um dos benefícios de viajar é encontrar surpresas pelo caminho.
Essa ilha foi uma surpresa para nós no primeiro dia que passamos aqui. A água é linda, a vista é maravilhosa, e fomos um dos primeiros passageiros a chegar na ilha por um barco menor do que o Norwegian Sun. Nós passamos cerca de 3 horas aqui, que por sinal foi o suficiente, e só saímos pq queríamos comer e estava quase chovendo. Ouvimos falar sobre um churrasco para os passageiros que aconteceria na ilha, mas o tal churrasco foi na verdade linguiça grelhada para fazer cachorro-quente americano (pão-linguica-mostarda). Nós não o experimentamos. A ilha tinha escorregador inflável, e tb alguns outros "sports" aquáticos para a criançada. A visita valeu a pena, mas ficamos no navio na segunda semana do cruzeiro. No geral, esses são dias para descansar e curtir a praia.